Luminary Tech Visionary Finalist: Catherine Allingham – Fertility Preservation Decision Aid
Luminary is proud to be sponsoring the Victorian Young Achiever Awards. In the fourth of a series on the Luminary Tech Visionary Award finalists, we profile Catherine Allingham, pioneer of The Fertility Preservation Decision Aid.
The Luminary Tech Visionary Award recognises young people demonstrating creative thinking and making a significant contribution and social impact through the use of digital. For more information, check out this blog post about Luminary's sponsorship of the Victorian Young Achiever Awards.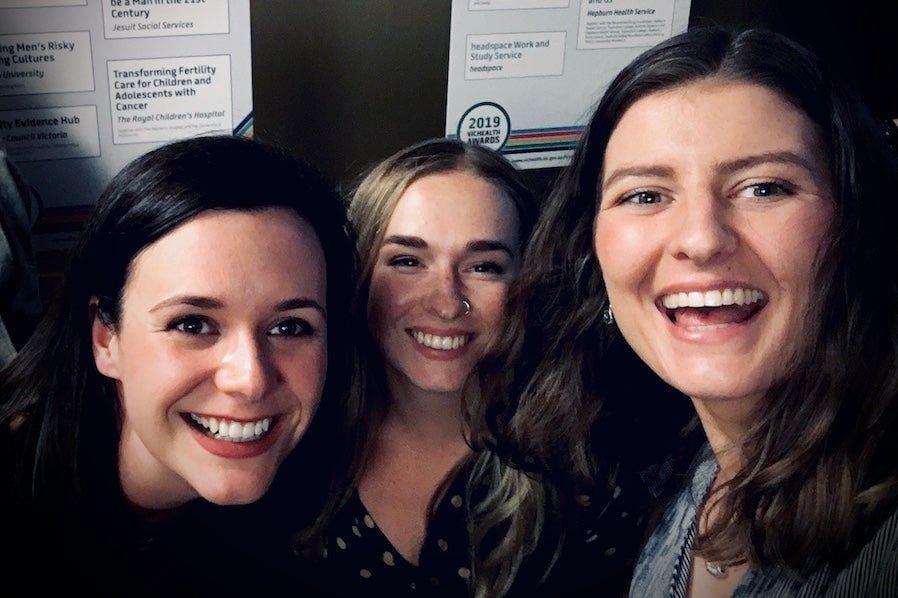 While most medical researchers graduate from high school and then go on to enrol in university, Catherine Allingham has taken a less conventional career path.
At 16, after multiple orthopaedic surgeries, unable to keep up with her academic workload due to the impacts of ill health, Catherine decided to leave school. At 18, with less than $1000 in her bank account, no return ticket, and speaking not a single word of German, she moved to Germany and worked in a pub for five years, completing year 12 through Distance Education.
Upon returning home to Australia, Catherine undertook a Bachelor of Biomedical Science degree at Deakin University, while supporting herself as a medical receptionist.
After she finished her undergraduate studies, Catherine applied to do Honours in the area of children's cancer research. It was through her Honours degree that she found herself working on a tool to help families make decisions about their child's cancer treatment and its potential impact on fertility.
"In Australia alone, there are about 1700 children and adolescents diagnosed with cancer," explains Catherine. "Treatments usually start quickly and can have serious side effects, including infertility. The Fertility Preservation Decision Aid is a website that helps educate parents to make decisions that they're most comfortable with in the short timeframe before treatment starts."
Traditionally, decision aids have been paper-based, in the form of booklets and pamphlets. Catherine worked alongside researchers and clinicians from the Royal Children's Hospital, Royal Women's Hospital and University of Melbourne to build this digital decision aid.
"Knowing how easy it is when I have my phone with me to find that information, making decision aids online seemed easiest," she explains. "When you're in hospital you don't want to carry around extra paper, so I thought online would be better."
This project was no simple task. There were both logistical and personal challenges that Catherine faced in realising this vision.
"I've needed to learn how to design information that is health-literate, and to design graphics and illustrations that make sense to patients. It's quite difficult when you're translating medical information into information that's easy for lay people to understand. Sometimes it feels like you're speaking another language."
Recruiting parents and children who have just had a serious cancer diagnosis can also be tough.
"At least by approaching parents, if they were having a bad day, this gave them an opportunity to give their feedback," says Catherine. "A lot of parents commented that they were happy to take from their own experience to possibly make things easier for another family."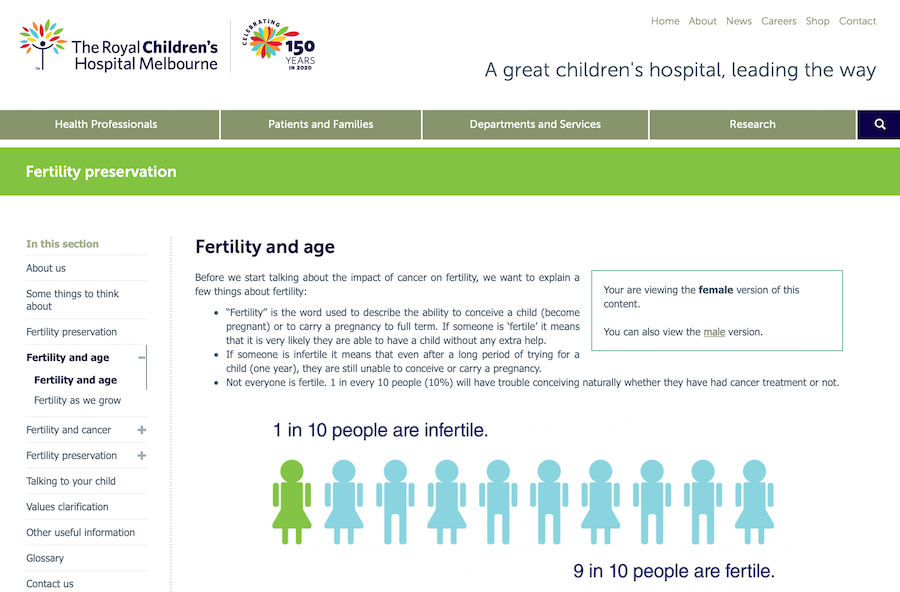 The project commenced in 2016 and is still a work in progress. "At the moment we're having participants and patients review it again with eye-tracking software. It's important that we design a website that's comfortable for use and makes sense functionally."
There were plans to start the eye-tracking study in December 2019, but Covid has necessitated a change in plans. "Now, a Masters student is recruiting participants through Zoom. When the situation improves, we will start the eye-tracking study," says Catherine.
What keeps Catherine motivated amidst these challenges is knowing the importance of this work. "Children's cancer isn't something that's going to go away, the research needs to continue. We can't solve all problems, but we can continue to make some kind of difference," she says.
Catherine credits the success of the project to the team she works with. "I am really fortunate to work with an awesome team at The Royal Children's Hospital. Five years later, I'm still working with the same team. The team is really supportive, inclusive and very multidisciplinary.
"I've been fortunate to have some great mentors, including my Honours supervisors, Yasmin Jayasinghe and Dr Michelle Peate. Yasmin is a paediatric oncofertility doctor, and Michelle is an amazing clinical researcher. They've been so generous in the way they've taught me.
"To me, winning the Luminary Tech Visionary Award would be a recognition of all the work that so many people have contributed," she says. "This project isn't just my work. It wouldn't have been possible without the generous involvement of patients and parents, clinicians and researchers. It would help bring awareness of what we do at the The Royal Children's Hospital which could help the decision aid be used worldwide," she says.
On a personal level, Catherine's can-do attitude and her unusual career path definitely set her up to take on this project and the challenges that come along with it.
"I've taken a bit longer to get where I am, but I don't think that's a bad thing. My question is always 'Why not?' I think that helps when you're doing tricky stuff. I'm a bit more stubborn. When you understand the world is tricky, you have a bit more empathy for people. You realise that the important thing is not about being the best, but making something a little bit better," she says.
Her advice to other rising tech entrepreneurs? "If you're interested in something, do it, and do it with passion. Share your idea and find good mentors. There's no reason you shouldn't be able to do it. There's more than one way to skin a cat. I would say just go for it!"
Read about the other finalists:
The winner of the 2020 Luminary Tech Visionary Award will be announced on Friday 18 September.
About the Author: A final year advertising student with a passion for food, Andrea lives her life around one simple concept – 'Be brave and kill your inner chickens!' When not busy killing inner chickens, you can find her in the kitchen experimenting on new recipes with leftover food from the fridge.