Sitecore Experience Cloud is an enterprise digital experience platform, offering best-in-class content management alongside all the digital marketing tools needed to craft, test, analyse, and personalise experiences in context – in real-time, and across any channel. Sitecore Experience Cloud has been firmly, and deservedly, established in the leaders section of the Gartner Magic Quadrant for Web Content Management for 10 years running.
What is Sitecore?
Sitecore delivers a single platform solution that offers everything needed to keep your customers engaged with your brand, giving your marketers the power to comprehensively win the customer experience battle. Built in marketing automation, email communications, social publishing and actionable real-time engagement analytics mean that you can continually optimise the customer experience by leveraging a deep and intimate understanding of your customers and segments.
Machine learning through Sitecore Cortex takes optimisation to the next level and provides true scale to personalisation, while xConnect delivers Martech stack integration with out-of-the-box connectivity with SalesForce, Microsoft Dynamics and SharePoint, among other line-of-business systems.
Sitecore features include:
Dynamic personalisation and experience editing
Optimised mobile experience
Social media engagement
Regionalisation and localisation
Ecommerce services
Best-in-class authoring environment
Digital marketing tools for customer engagement
Development and design flexibility
Seamless integration, scalability and multi-site management
Open architecture balanced with site security
Why Sitecore?
Sitecore's Web Content Management System (CMS) puts the power of personalisation and conversation management right in the hands of your marketers and business users.
Create and manage content easily while personalising your customer experience
Headless or coupled capability provides options to deliver any digital experience
Multi-lingual content including integration with leading translation services
Sitecore® Experience Database™ (xDB) gives you a full 360-degree actionable view of all customer data and interactions
Out-of-the-box SalesForce and Ms Dynamics 360 integration
Context Commerce – eCommerce with all the engagement power of Sitecore
The unified, user-friendly business tool on the Sitecore Launchpad allows for more efficient management of inventory, catalogues, orders, pricing and promotions — all from one simplified view
Includes Sitecore Experience Database (xDB) to store and manage all customer data, interactions and more
Native digital marketing tools for personalisation, analytics, testing, optimisation, and omni-channel delivery
Marketing at scale – marketing calendar, full content workflow and campaign creation inside Sitecore
Manage any media type, including photos, layouts, packaging artwork, video, 3D, source files and more
Integrated rights management, thorough security and worldwide distribution
Plan your marketing calendar and organise content production with a structured and streamlined process using collaboration tools to smooth bumps in content ideation and creation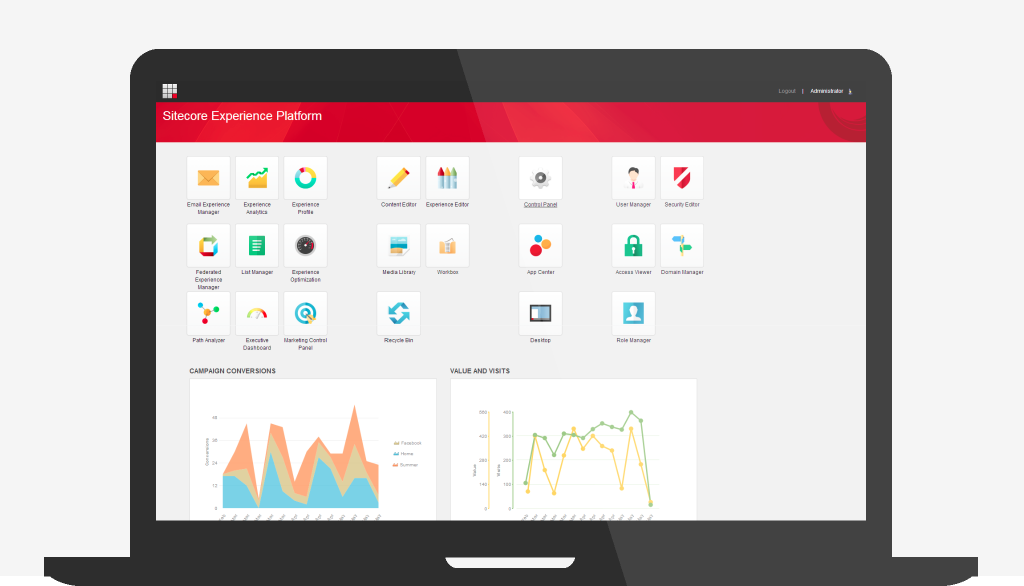 Companies that trust Sitecore