What is Kentico EMS and where should I start?
Kentico EMS – Kentico's online marketing solution – can be a powerful extension to your Kentico CMS but knowing where to start can be tricky.
In a world where consumers are increasingly demanding more tailored and relevant marketing communications, Kentico's Enterprise Marketing Solution (EMS) allows brands to deliver exactly that, all through the convenience of a single platform. It enables you to collect and act on data in a way that delivers a uniquely personalised experience to your target audience.
Kentico CMS v Kentico EMS
Kentico's EMS offers all the same functionality as the Kentico CMS but with a whole raft of extra online marketing bells and whistles, including content personalisation, marketing automation, lead scoring and A/B testing (to name just a few). The EMS extends the CMS into an all-in-one customer experience management system, eliminating the need to integrate any third party online marketing tools into your Content Management System. (For a full comparison of CMS v EMS features, check out Kentico's own breakdown of product features.)
The key features of the Kentico EMS can essentially be broken down into the following categories:
Contact Management - segmentation of site users according to attributes and activities performed on-site; personas; lead scoring
Email Marketing - creation, management, tracking and optimisation of email campaigns
Content Personalisation - tailored web and email marketing content; geolocation; recommendation engine integration
Marketing Automation - automated communications triggered by defined user behaviours or milestones; advanced workflow control; CRM integration
Analytics and Optimisation - A/B testing (web and email); multi-variate testing; campaign conversion tracking; web analytics
Download now
Get the one and only guide to Kentico EMS - the Smarter Digital Marketing ebook.
Download now
Where to start with Kentico EMS
Just as the sites created with Kentico EMS do not provide a one-size-fits-all customer journey, the process of implementing EMS is a completely moveable feast. Your EMS journey will be unique, depending on a range of factors – from the purpose of your site (e.g. e-commerce/informational) to the size of your organisation (and budget), the nature of your industry, and whether you're primarily talking to consumers or other businesses.
The fact that Kentico EMS allows for so many different permutations is what makes it so appealing, but it can also be quite overwhelming when you're just getting started.
A good launching point for your EMS journey is to work out where your organisation sits in terms of its appetite for strategic planning. Organisations, after all, are like people – some like to dive in head-first, while others like to take their time and develop a more considered and strategic approach. Either way can be effective, and both have their pros and cons.
With the more tactically-oriented 'dive-in' approach, you would select one small EMS feature to implement (e.g. A/B testing), measure and refine, and then move on to the next feature. This approach has the advantage of giving you the freedom to Luminary pretty much straight away, but it may result in an overall lack of strategic direction.
If your organisation is more strategically inclined, you are probably going to want to start with a deeper analysis of your core users and their typical customer journey. This will provide the foundation for your broader EMS implementation strategy.
Either way, the starting point is to build out your customer lifecycle. Consider both the digital and physical touchpoints that your customers interact with along their journey – starting with the awareness phase, to conversion/purchase and all the way through to loyalty. This involves analysis of your website, emails, Google Adwords, mobile and any kind of chat or instant messaging your brand utilises. From this data, you can start to build out your typical customer journey. At this point, you should also start to think about customer segmentation by questioning who your target audience members are and what characteristics different user groups (or 'personas') have in common. You will most likely find that the typical customer journey varies across different personas.
Features to implement in the early stages
Whether you choose to commit to a broader strategic framework or a more 'test it and see' sort of approach, it's a good idea to choose a single aspect of Kentico EMS to focus your initial efforts on. Starting small will give you the space to find your way around the EMS without feeling too overburdened and will make it easier to monitor specific outcomes.
Contact management
As user profiling underpins everything that Kentico EMS does, it makes sense to start by enabling Contact Management and tracking visitor activity. This allows you to analyse the behaviour of visitors who come to your site – who they are, where they come from, how they search for information on your site etc. From here you can start to create contact groups and then move on to setting up personas. These will provide the basis for implementing features like marketing automation and content personalisation.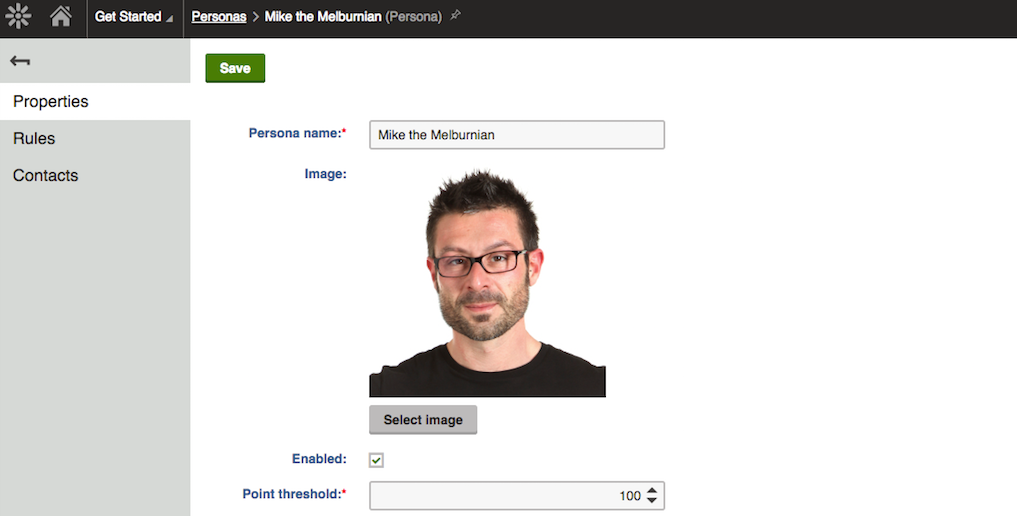 Split testing
A/B or multivariate testing (split testing) can be a good way to 'dip a toe in the water' with the EMS, especially if you're taking a more tactical approach. Split testing allows you to gauge the performance of multiple variants of a page, including layout, colours and images, to see which delivers the best results. A/B testing is used when you want to test a single variant (for example the colour of a button, or two versions of a call to action), while multivariate testing can be applied to an unlimited number of combinations on a single page.
Basic marketing automation
Marketing automation in the EMS can be as simple or as complex as you define it to be. At its most basic level, automation can be triggered by a single event such as shopping cart abandonment, the take-up or expiry of a free trial, a newsletter opt-in, a gated content download or a new purchase. Basic automation can also be used for situations like event reminders, new customer onboarding and gathering feedback. Setting up this sort of single-event automation is very straightforward and provides a useful introduction to automation in the EMS.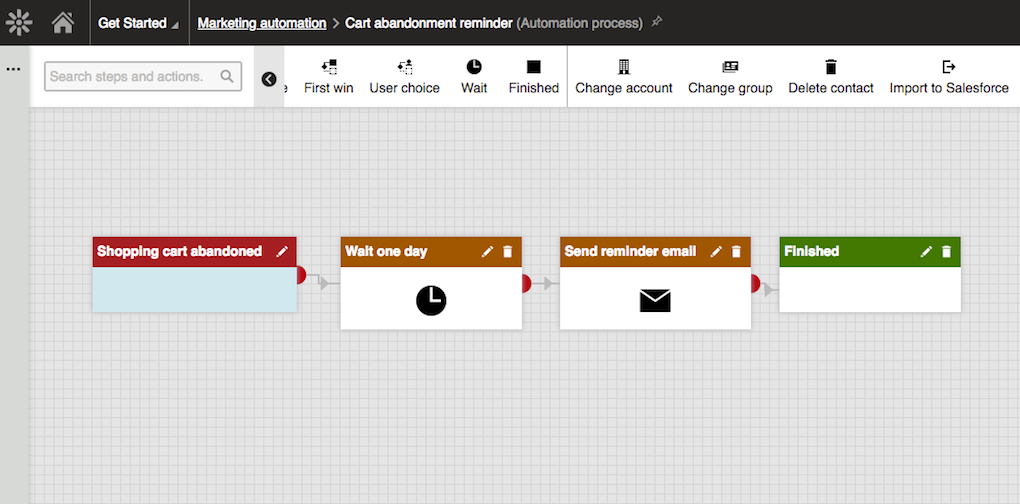 Basic content personalisation
As with marketing automation, content personalisation can be extremely sophisticated and complex. However, it can also be as basic as acknowledging a return visitor and greeting them with a 'Welcome back' message, or serving specific content on your homepage based on the user's location.
Jumping in
Of course there are other 'jumping in' points within the EMS – this is simply an introduction to some of the more common points of entry. Ultimately, where you begin with your Kentico EMS journey will be determined by your specific context and the sales and marketing priorities that drive your organisation.
Want to know more about Kentico's Online Marketing Solution? Download the guide.
Enter your details below to obtain a complimentary copy of Smarter Digital Marketing: An Introductory Guide to Kentico's Online Marketing Solution via email.