The challenge
KordaMentha is a premium boutique advisory firm that provides specialist consulting, forensic, real estate, turnaround, restructuring and investment management services. The firm has around 400 employees across Asia-Pacific. Its clients include corporations, financiers, lawyers, private investors and government. 
In line with its brand repositioning, KordaMentha felt it was time to overhaul its website. The overarching objective for the new site was to support and magnify the brand's revised values and activities, while incorporating modern design and usability principles. 
An easy-to-use CMS, including quality integrations with web technologies such as social and multimedia, were central requirements. The site also needed to cater to the needs of the firm's target audiences, including existing and potential clients, university graduates and job applicants, journalists, researchers and creditors.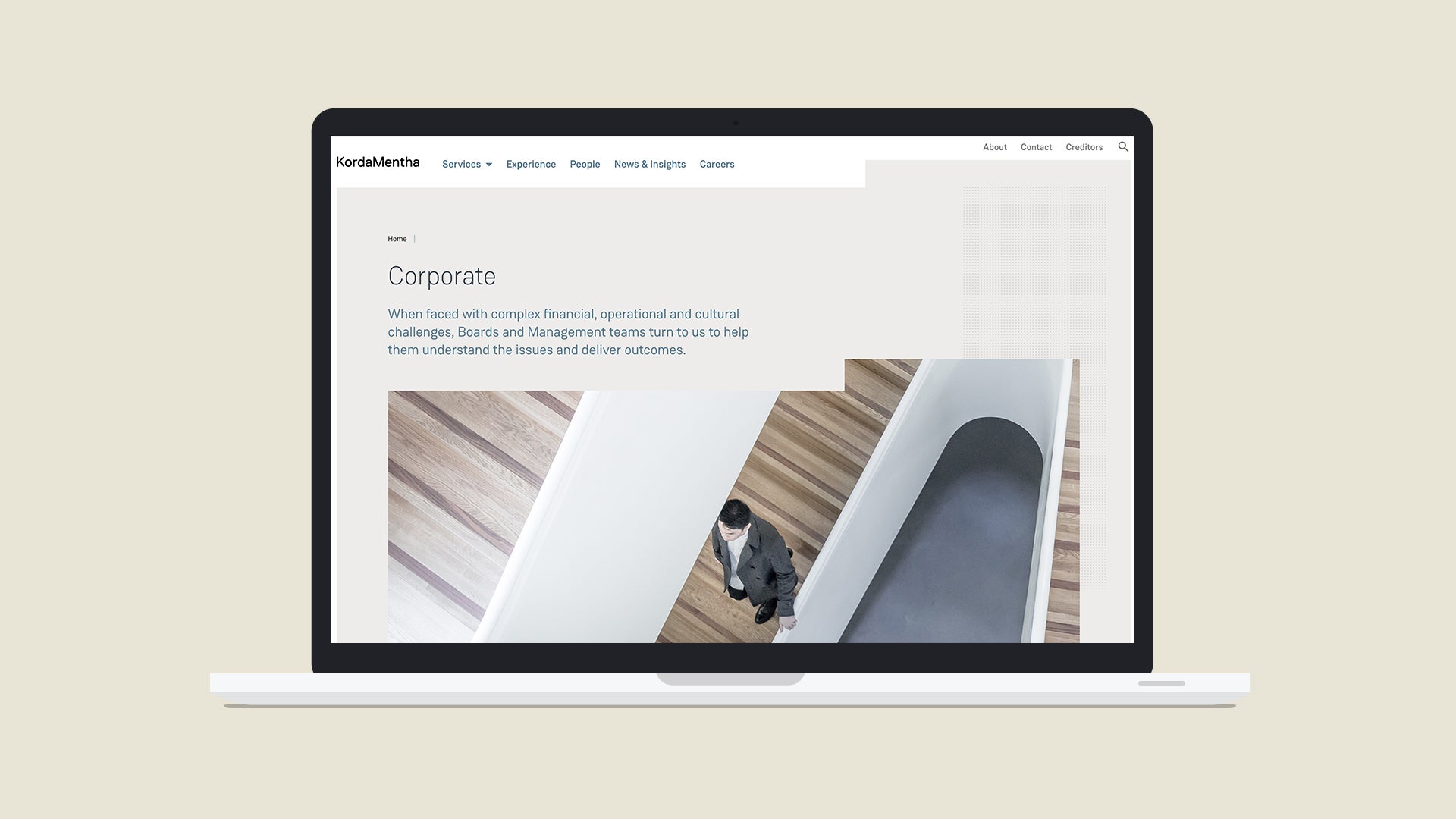 The solution
One of the key elements of the new site is a simplified information architecture. This has been achieved by consolidating a number of areas of content that contained largely overlapping material. Navigation has also been streamlined by replacing the site's original mega menu with a tiered menu system.
The speed of information filtering has been significantly accelerated through the use of a new JavaScript framework called React. This enables on-site information to be filtered without having to fully reload the page, vastly speeding up the process. This is particularly evident in the 'News and Insights' and 'People' sections of the site.
Flexible content widgets have also given content editors far more flexibility and self-sufficiency, enabling them to build pages in a simple-to-use, drag and drop modular format rather than relying on developers to build multiple templates. The flexible content widgets automatically recognise if there is an associated child page, and automatically displays a sub-menu to reflect this.
Another key benefit of the new site for KordaMentha's content editors has been the way that files were set up for content migration from the old site to the new. By grouping files into folder structures, content editors were able to simply select a top-level folder to automatically populate all the content below it. This resulted in an enormous time saving for KordaMentha, turning a manual process that would likely have taken weeks, into one that took just a matter of minutes.
The team at Luminary really understood what we were trying to achieve with the repositioning of the KordaMentha brand. The result was a great site that clearly communicates our new direction and corporate values. Luminary's flexibility and creative approach to problem solving also allowed us to meet our deadlines. The working relationship we had with them was very much one of collaboration and partnership.
Keep reading
Want more? Here are some other examples of our work that you might be interested in.