Background 
Fuso – part of Daimler Truck and Bus Australia – is one of the nation's largest truck manufacturers, with more than 40 dealers. Daimler has a rich history in Australia dating back to the 1970s, and has built a strong reputation for quality vehicles and reliable service support. Daimler offers a comprehensive range of vehicles across Fuso, Mercedes-Benz and Freightliner.
Fuso required a new website that would better represent its range of industry leading vehicles, including the new electric eCanter range. With such a large inventory of vehicle options, Fuso needed a site that would cater to the discerning fleet buyer, but also the first time small business owner who didn't know where to start.
Key objectives
A customer centric design approach
Increase the quality, volume and ownership of sales enquiries
Ensure that all technology and designs can be repurposed across the Daimler group of brands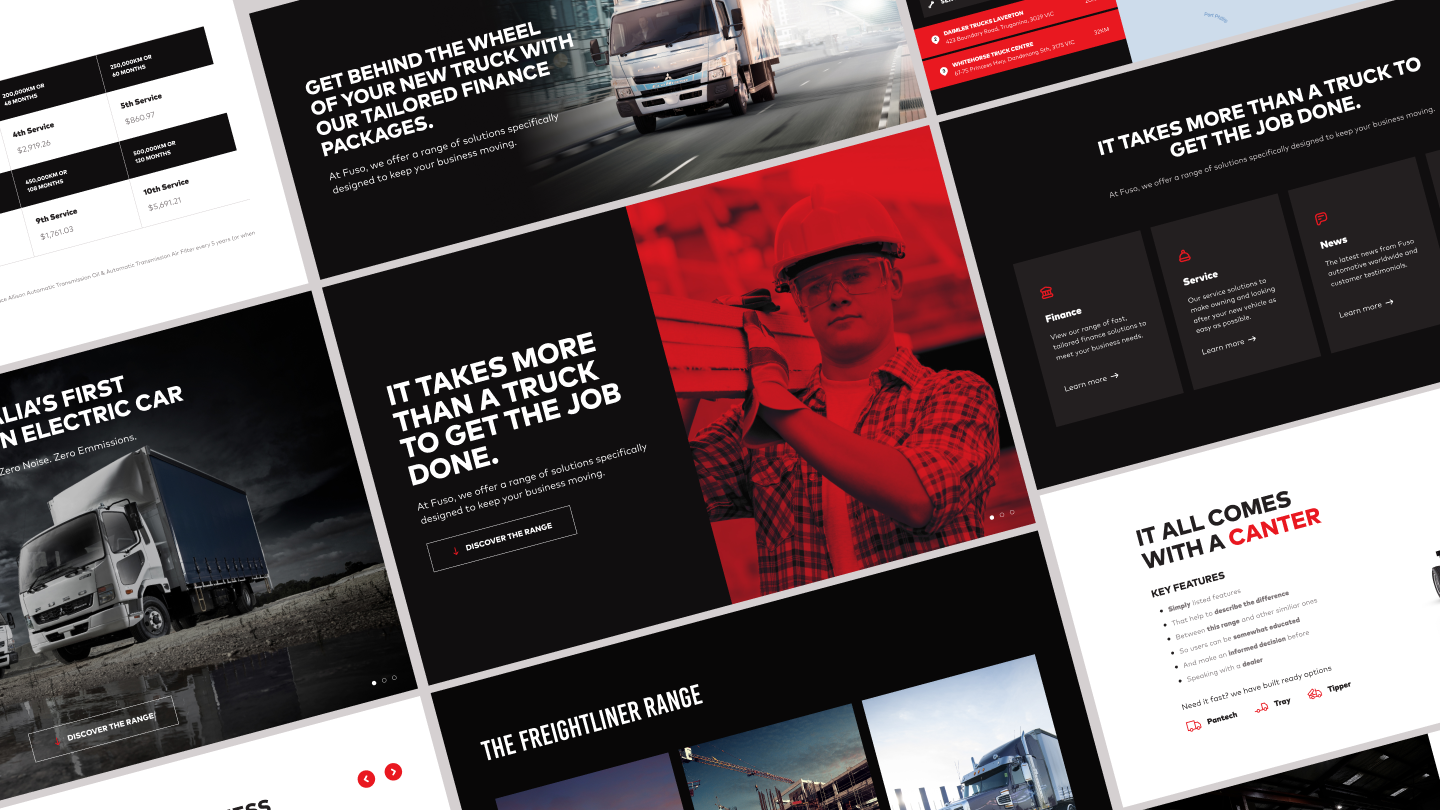 What we did
The Luminary team delivered a greatly elevated online experience including:
All new information architecture
Range explorer (for first time buyers)
Range based navigation (for fleet buyers)
Smart filters like 'drive on car licence' or 'built ready'
Compare tools to better showcase subtle differences
A new dealer locator for sales, service and parts
A lead management system to ensure proprietary ownership of sales data.
The result
The new group of websites have been a great success for Daimler, with significant improvements reported across all brands including:
Vastly improved user engagement and feedback
Increase to website performance and organic traffic
Significant uplift in respect to the volume and quality of leads generated
Up to 75 percent reduction in ongoing maintenance costs
Technology is changing rapidly in trucking and we're introducing some very advanced product lines to the Australian market. We needed an agency that demonstrated the right capabilities and agility to elevate our overall digital experience. Luminary was the clear choice for the long road ahead of us – and Optimizely was a standout platform to support our future strategy.
Keep reading
Want more? Here are some other examples of our work that you might be interested in.