The challenge
Electrical distribution boards are among the products that it supplies. A distribution board is a component of an electricity supply system that divides an electrical power feed into subsidiary circuits. The boards are bespoke products that are designed and manufactured according to very specific requirements in each instance. They are typically used in large buildings, with the target market being commercial electricians.
 
Prior to the development of the FlexSelect app, electricians had to work with Schneider Electric or go direct to the manufacturer to configure the product with each purchase. This was a very time-consuming process which involved a lot of 'toing and froing' and carried a high risk of error. Schneider Electric approached Luminary to develop a digital solution to this less-than-ideal customer experience.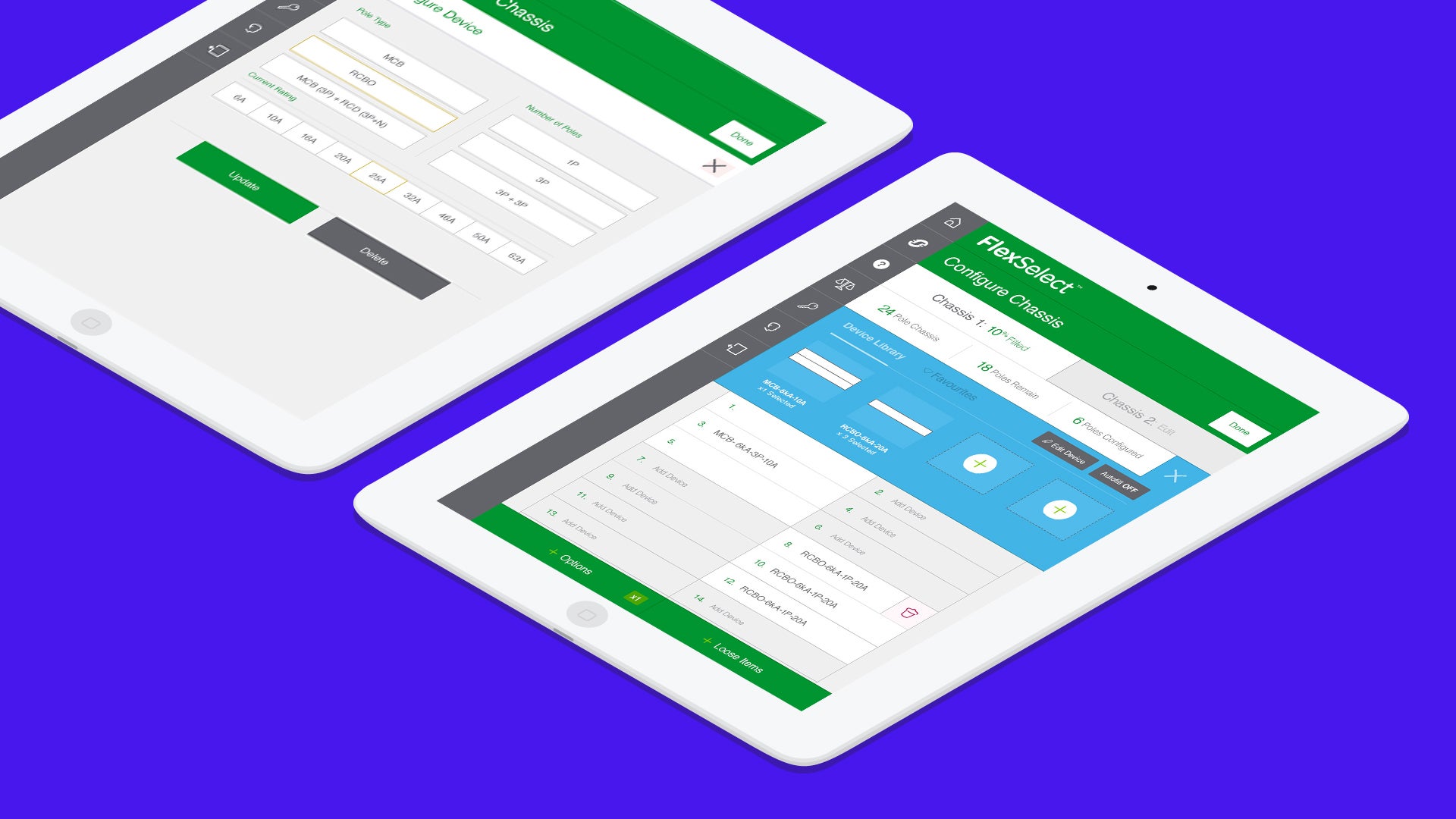 The solution
The solution was FlexSelect, an easy-to-use web app that enables electricians to configure and purchase a distribution board in a fraction of the time it used to take. FlexSelect is accessible by mobile, tablet and desktop, so electricians can use it at any time, from anywhere. It features an intuitive drag and drop interface and provides users with an instant quote to reflect their uniquely specified requirements. Technical drawings are automatically created on placement of the order and the product is ready for dispatch within 48 hours.
As a safeguard against errors, FlexSelect is supported by a layer of logic that prevents the creation of any configurations that are not compliant with electrical engineering safety requirements. The app has also been designed to accommodate a complex pricing model.
The result
FlexSelect has significantly minimised lead times for electrical distribution boards – down from an average of more than a month to just a few days. Significant time improvements regarding quotations, drawings creation and manufacturing have meant that FlexSelect has enabled Schneider Electric to tap into a market that it was previously unable to penetrate. The upshot is that sales have increased to the point where the company expects to see a 12 percent increase in sales by the end of 2016.
 
Customers are also now in a much better position to meet project deadlines, which has had a flow-on effect of greater satisfaction and loyalty among Schneider Electric's customers. Another benefit of the app is that it has reduced the incidence of errors as the process of manually communicating and interpreting the customer's requirements has been eliminated. 
FlexSelect has been extremely well received by our customers. It is a digital disruption to the industry and is breaking new ground in order to make the lives of Schneider Electric's customers easier. Despite Luminary not having any previous experience or knowledge of our custom Distribution Board offer, they understood what we were trying to achieve and have developed a tool that we are extremely happy with. The user interface is better than we were expecting and the simple usability of the tool largely contributes to its success.
Keep reading
Want more? Here are some other examples of our work that you might be interested in.