The challenge
Snooze is Australia's leading bedroom lifestyle retailer, with over 85 stores nationwide and over 40 years' experience. Part of the global Steinhoff group, Snooze has undergone a dramatic brand overhaul in the past 20 years from the budget-focused Capt'n Snooze to the more lifestyle-focused, premium Snooze brand.
Snooze approached Get Started in 2010 when it was fighting for brand recognition and struggling to grow its franchise network. Its digital strategy consisted of a basic brochureware site with outdated products, and... that's it. There was no digital marketing manager, let alone a digital team. The marketing team consisted of less than five people. As a centrally-managed services company for the wider franchise network, Snooze was severely limited by resource constraints.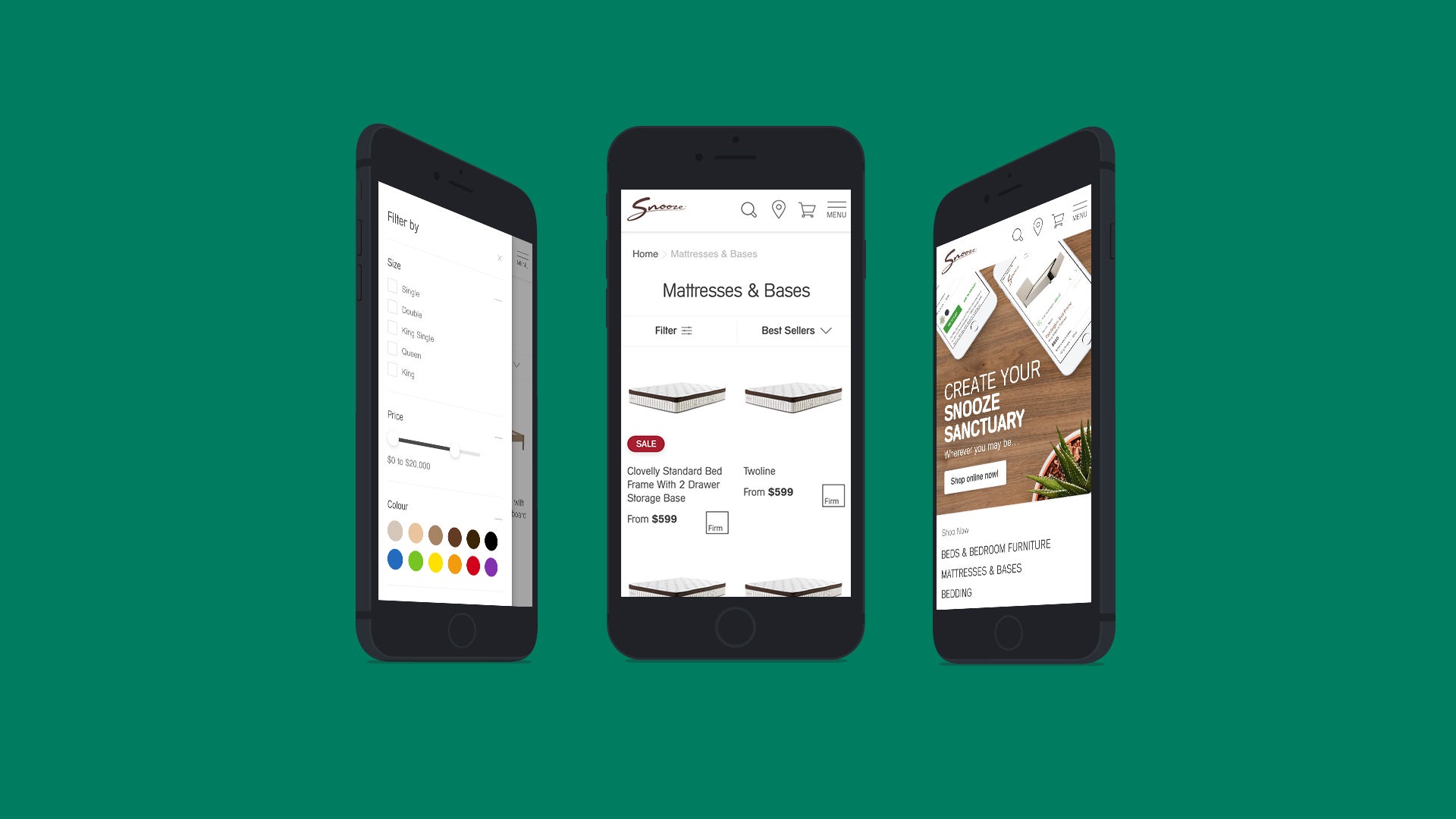 The solution
We began by helping Snooze recruit a Digital Marketing Manager. We managed this process as part of a broader strategic engagement to review the company's entire digital strategy. We addressed some immediate quick wins on the website and started to build out an approach to transform the organisation from a digital perspective. 
The first major phase in this transformation project involved rebuilding the website on a modern platform, integrating with a new product information management system (PIM) and bringing to market a digitally-led customer experience – bedBUILDER® – to elevate the Snooze brand. 

While the foundation digital platform and complex data integrations were essential for the long-term success of the digital transformation project, the bedBUILDER® stood out as a brand tool that elevated Snooze above the competition by allowing consumers to completely customise the design of their bed with just a few clicks of a mouse. We undertook extensive stakeholder engagement, including engaging directly with franchisees to understand how best to deliver the digital experience in-store. We also undertook comprehensive end-user and customer research through in-home and lab-based user testing scenarios. The result was a completely redefined digital experience that extends from the store experience into people's homes. 
The second major phase of this digital transformation journey involved taking Snooze to e-commerce. The challenge was always the franchise network and their fear that e-commerce would erode their margins. We recognised this challenge and with Snooze, engaged with a third party consultant to run a Change Management program for franchisees and other key stakeholders. This co-design project led to the creation of the e-commerce project charter, resulting in all stores capturing, and delivering, orders in their postcode zone. Negating the fear and managing change, allowed us to move quickly into implementation and deliver an award-winning e-commerce experience that immediately surprised everyone with the volume and nature of the online transactions.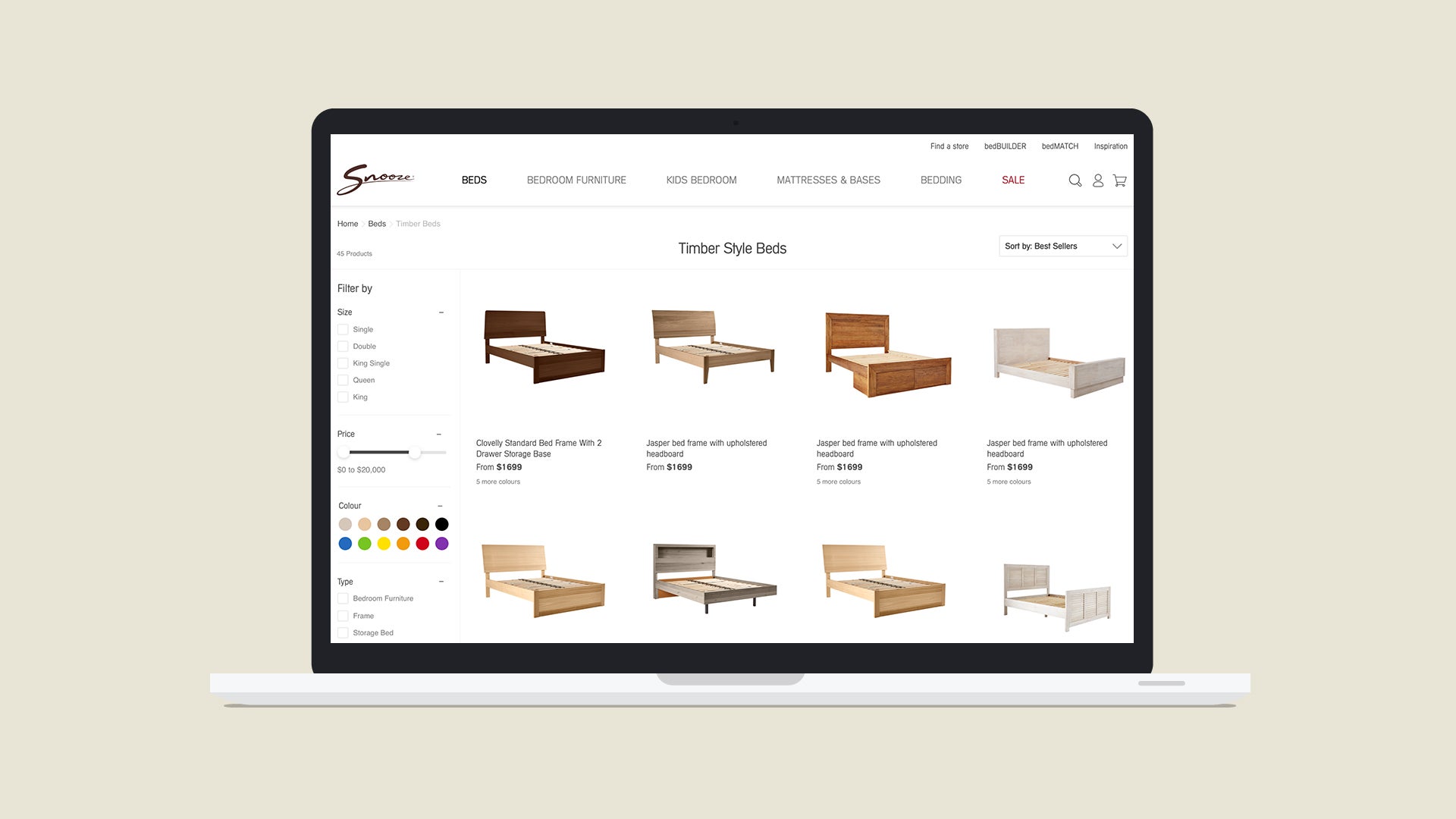 The result
Since we began working with Snooze, the brand has led the market from a digital perspective, with competitors following its lead very closely. Most importantly though, Snooze's digital evolution has allowed it to combat increasing competitive pressure and maintain a strong profitable position, reaching and exceeding budgeted sales in most quarters throughout this period. The new e-commerce experience has quickly become one of the leading 'stores' Australia-wide while continuing to be Snooze's highest performing 'salesperson'. 
In the period that Luminary managed Snooze's e-commerce website (July 2017 to March 2018), conversions rose by an impressive 216 percent. In the first month following the launch of the site, the company's overall sales increased by 18 percent year on year.
The next phase of Snooze's digital transformation involves Get Started exiting the picture (at least from a day-to-day perspective). We have helped Snooze transition into a position to internalise all digital support and production. From a team of zero eight years ago, to where they are now is an incredible result. 
The site is seeing unprecedented levels of purchasing at high average order values, confirming the strategy that Snooze and Get Started have put into practice. It is the continued collaboration with Get Started that underpins Snooze's drive and outcome to be the leading online destination for bedroom lifestyle.
Keep reading
Want more? Here are some other examples of our work that you might be interested in.