The challenge
Reward Hospitality is the leading hospitality supplier in Australia and New Zealand. Its website is primarily a B2B e-commerce platform, with a growing B2C audience. Having experienced large growth in the 24 months leading up to its engagement with Luminary, Reward Hospitality was looking for a rigorous UX process and design outcome to take its website to a best-in-class MVP build before November 2021, with a roadmap for improvements beyond. 
While an expert in their industry, Reward Hospitality's website was limited in its ability to provide an intuitive and satisfying e-commerce experience. This meant lost revenue opportunities from existing customers and difficulty in attracting new audiences. 
Tactically, the Information Architecture (IA) was overwhelming, search functionality limited and the site poorly optimised for mobile and accessibility. Reward Hospitality recognised an opportunity to make significant improvements to its customers' online experience by optimising the UX and design aspects of the website. Close collaboration with Reward Hospitality's existing platform partner, Commerce Vision and Luminary ensured a seamless transition between the design and implementation phase.
The key challenge was to improve the overall online experience through customer insights and UX design in order to achieve significant growth in measurable performance metrics, including:
an increase in average transaction value
greater exposure in the education and aged care industries
an Increase in website traffic 
a reduced bounce rate
an increase in the sales conversion rate with a focus on mobile.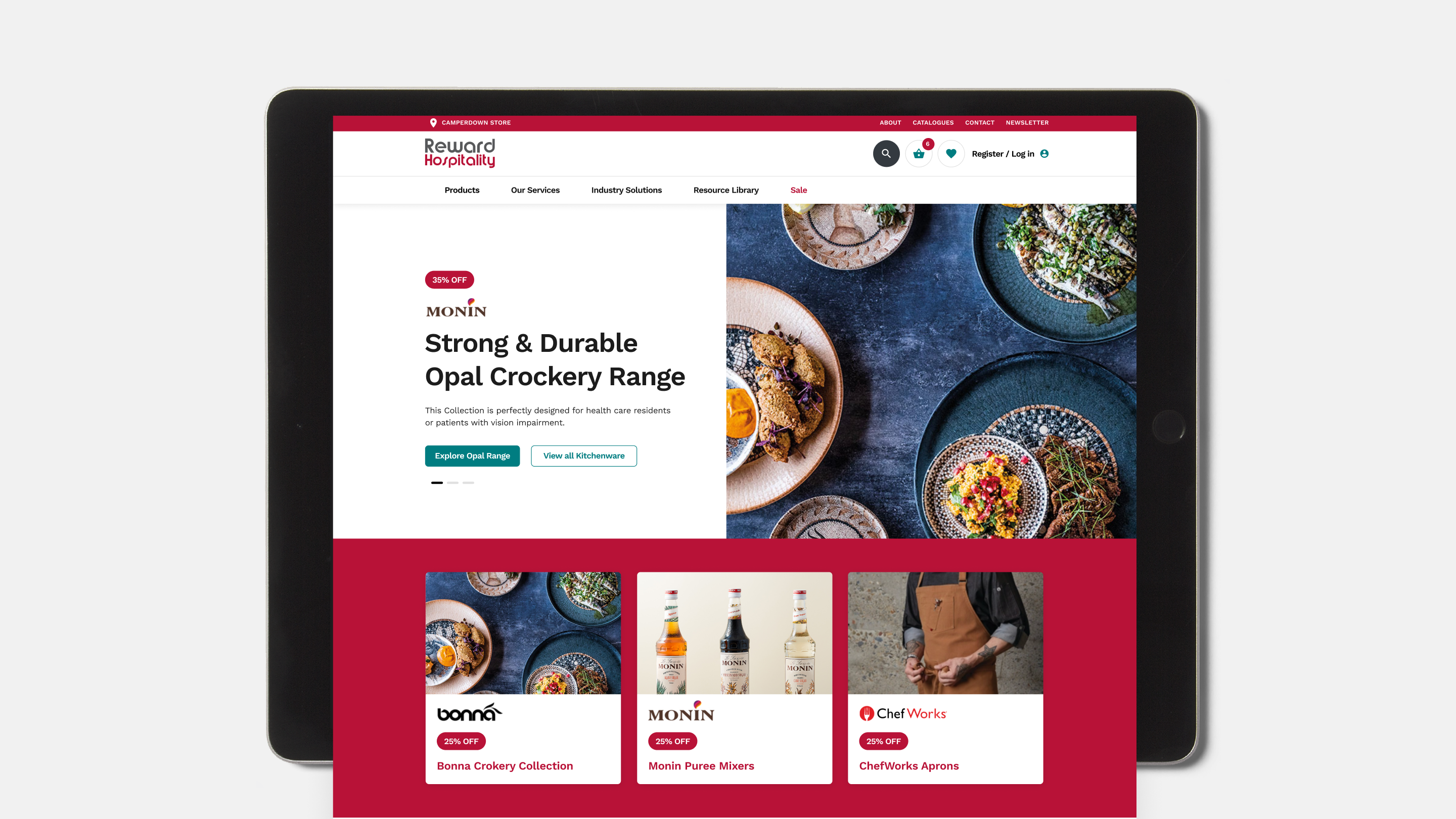 What we did
Reward Hospitality recognised that the way forward was to drive a fresh vision for the website informed  by the customer's perspective rather than by a technology-led approach. The opportunity went beyond a simple visual redesign or refresh. It was about understanding who its customers were and how they were currently using the site, as well as finding out how to grow its audiences and convert more sales. 
By putting customers' needs and expectations at the forefront of the project, the existing platform and development supplier could be better directed to achieve the company's strategic goals. This required an approach that would utilise the website platform's component library as much as possible and minimise custom development requirements.
"This entire project is focused around the customer. We need to keep the customer in mind every step of the way." – Kristy Stevens, Marketing Manager, Reward Hospitality
Luminary's discovery and design process always seeks to uncover evidence, from which clients can make informed decisions about the future of their website and broader customer experience. To do so, Luminary took a mixed-methods research approach, undertaking analytics, SEO, qualitative and quantitative customer research. We structured an evidence-led discovery and design engagement spanning eight sprints (16 weeks).
This rigorous process uncovered customer problems and opportunities to be addressed, such as:
customer blindness to service offerings and specials
lack of brand awareness during research/googling phase
increasing customer concerns around product availability
needing to place additional emphasis on the delivery process
existing default position to call the sales rep due to low website quality
Starting with the foundations, Luminary aligned the site structure with the mental models of the audiences, shaping a new IA that significantly reduced the mental load on users. We did so by utilising card sorting to align language and structure with that which comes naturally, while reducing the amount of content exposed to users at any one time in a new navigation model.
From the research, we crafted design challenges and facilitated an ideation session with Reward Hospitality stakeholders, generating features for the website that solved the key customer issues and prioritised them into an implementation roadmap.
To maximise efficiency, Luminary aligned as closely as possible to an existing widget library, supplied by Commerce Vision. Only where the experience dictated there be custom development, did we recommend entirely new components. By crafting wireframe prototypes, we were able to shape the future vision for the website, incorporating prioritised features and validating them through usability testing. 
Utilising stand-ups to run daily design reviews enabled the team to expose thinking early, and deepen our understanding of the platform and business constraints.
"Starting with low-fidelity prototypes, allows us to validate our thinking while reducing the risk of visual design debt and anchoring to our initial ideas." –  Josh Smith, UX Director, Luminary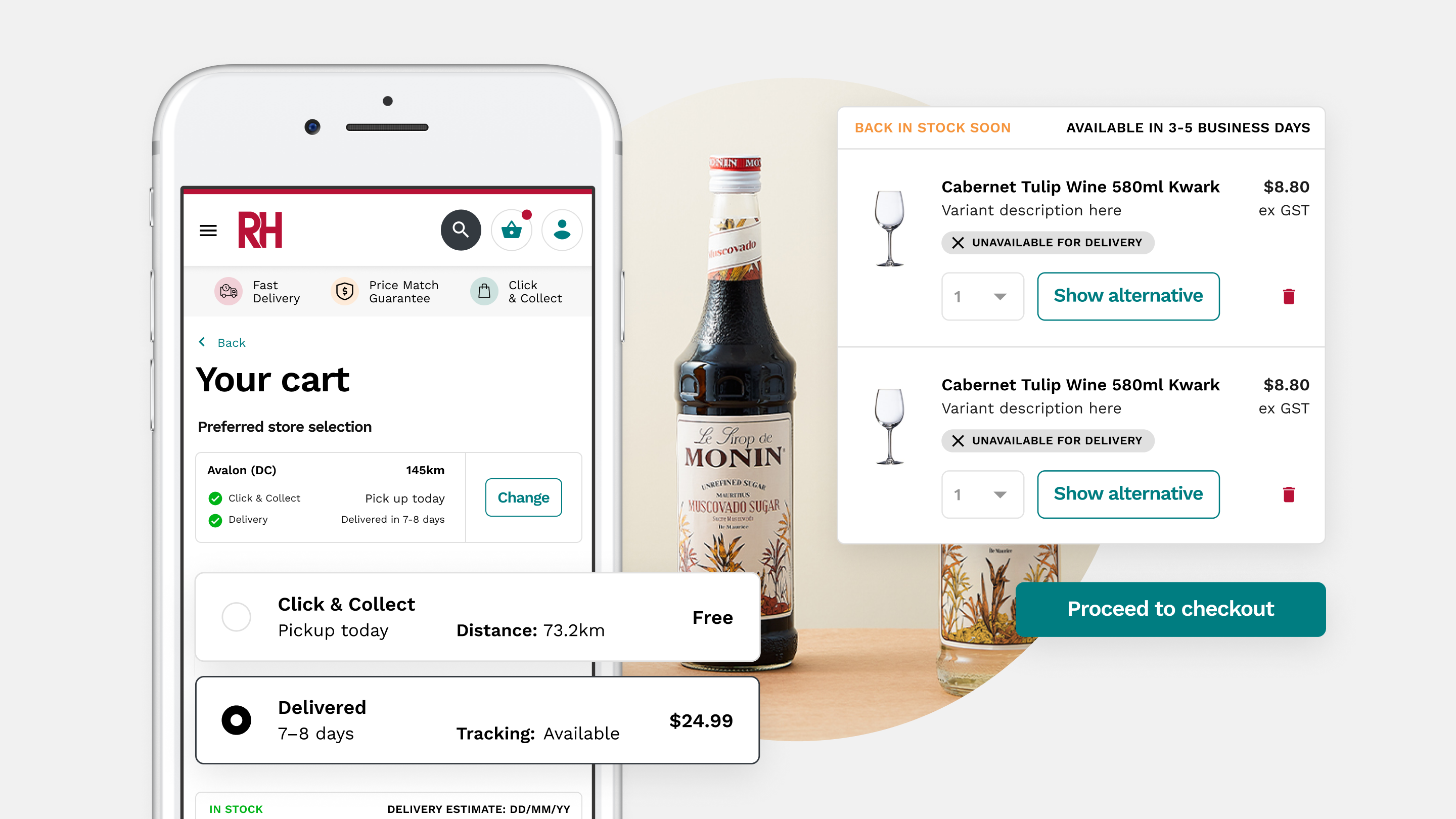 The result
The Reward Hospitality website is achieving the strategic objectives of the company by building and optimising the site experience around the customer. The mobile-first, AA compliant MVP website was launched on time and includes many features and updates such as:
improved search functionality and product naming conventions
increased visibility to service offerings and specials 
centralisation of product variants in a single view to reduce complexity
showcasing where and when product is available
recommended alternatives when product is unavailable
increased usage of click and collect
delivery estimates on the product page
colour swatches and product variants for products
product reviews for all products, and
category focused news articles on specific product pages.
Working with Luminary was a real pleasure and great learning for all of us. We are already starting to see the effect of the new website both in terms of customers/staff engagement and $$$.
Keep reading
Want more? Here are some other examples of our work that you might be interested in.