Australia's catching on
Nielsen's 2010 Internet & Technology report shows a huge jump in Australian internet usage from 2007 to 2010. Perhaps it's time our government took action to ensure we aren't the 'slow-poke' of the web!
The pressure to deliver quality websites has never been greater. As Australians continue to use the web at record-breaking rates, web designers and developers will be forced to deliver high quality user experiences, unless they want to be left behind.
The stats and what they mean
Nielsen's 2010 Internet and Technology report has been released and according to the latest report, Australians have jumped 28.7% since 2007 in their web usage.

Those of us who work with the web have long understood that it was becoming the main platform for media, business and social interactions. But as the capacity for high speed Internet continues to increase, its very possible that the web could replace 'normal' ways of receiving all modes of communications including TV, DVDs and News.

How the Internet matches up to other mediums...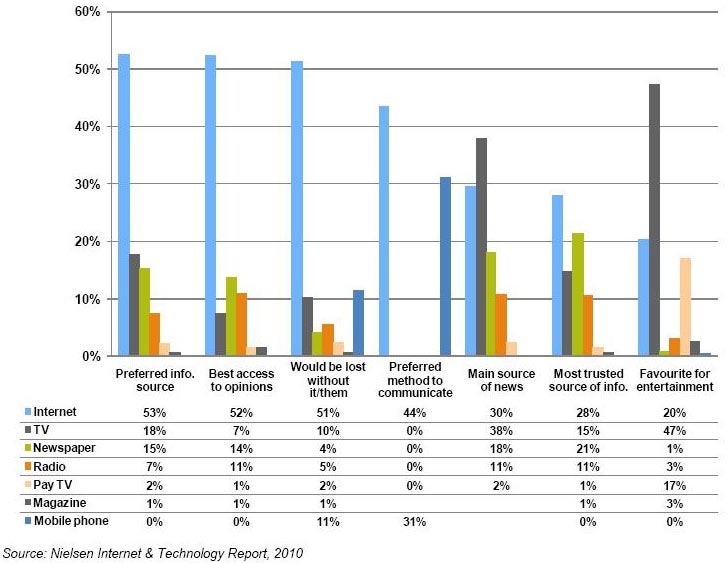 The platform is growing...
Yeah, it may seem far fetched, but just look at the generations under the age of 30 - usage within this demographic suggests that the Internet has already become their media hub. Matt Bruce, managing director of Nielsen's online business in Australia, uses the term 'media multi-tasking'. It seems to us like an obvious progression to a more logical platform, which, in case we haven't mentioned it, is the web!

Another awesome finding in the report - the Internet has now become Australia's preferred choice for communication between friends (Facebook, Instant Messenger, Twitter, LinkedIn, Myspace)

This is all great news for our industry. It also offers great insight to present and potential business owners as to why they need to take, if they don't already, their website more seriously.

50 + are now onboard...
Interestingly, generations that were considered 'too old' for the 'web market' have now caught-up with their younger peers and its now estimated that users over the age of 50 are using the web as much as they're watching TV (15.5 v 15.6 hours per week).

This is massive! It was only two years ago when the 50+ demographic was the laughing stock of the web industry. This is certainly not the case anymore. Among the top sites Australians visit, banking sites lead the charge and it appears that the financial connection to the web has encouraged many baby boomers to go a bit further...

They've now put aside their fears, and are now realising the true power of the web.

The Mobile Factor...
The internet has also taken over mobile phones as the preferred communication medium. This is not to say that the web is going to replace mobiles but it certainly solidifies the web as a reliable and powerful communication channel.

Even more importantly, websites (such as Facebook) that utilise efficient mobile capabilities (i.e. smart phones, including iPhone and Android applications) have opened up a direct connection to their online communities. This is the same for the big banks in Australia - all now offering mobile apps. This 'always accessible' approach only strengthens user confidence in the company / network.

Helping clients develop their online communications strategy is an approach we take from the onset of a project. Pushing the mobile aspect will help clients as they endeavor to tap into the massive online marketing arena. Sharing this knowledge with our clients will essentially give them the power to separate themselves from their competitors. But these trends and technologies must be understood fully by the business owner and developer/designer alike.

These developments will create a whole new line of communication between business owners and web developers/designers and is an excellent opportunity to strengthen the relationship between the two.

Where does that leave us?
For business owners, this really highlights the importance of creating a website that is well designed and developed. The website will be the first line of connection between a business and a possible client.

For us, this is affirming - we've been approaching our projects with the understanding that the web would soon become the preferred choice for social, business and entertainment interactions. It's a pat on the back that we're helping our clients down the right path. There's so much activity in the industry - it certainly highlights why web professionals need to open up their knowledge to the rest of their social and non-web professional peers.

Either way, these stats are great news for people who work close to the Internet. It only deepens our passion to create better websites!


More information & resources
Marketing Magazine - "Australian Internet Usage breaks records"

Nielsen - Australian site (note: report not yet released publicly)

GoMo News - "Smartphones drive explosion in mobile internet use"

Smashing Magazine
-"Clear & Effective Communication in Web Design"
- "Mobile Web Design Trends for 2009"